Leave a Review

For bookings and enquiries 01455 553307


"We have loved our stay and feel very pampered by your wonderful staff. We can't wait to come again!"
Ann and Mike McCann



"We have loved our stay and feel very pampered by your wonderful staff. We can't wait to come again!"
Ann and Mike McCann

Expect a Warm Welcome at The Greyhound Coaching Inn

The Greyhound Coaching Inn is a charming and traditional 18th Century coaching inn located in the South Leicestershire town of Lutterworth. A family-owned hotel, The Greyhound Coaching Inn has been sympathetically restored by Robert Eggleston to provide a relaxed and welcoming atmosphere.
Guests can expect a warm welcome to this Grade II listed hotel and enjoy delicious home-cooked food in the contemporary surroundings of The Greyhound Inn Restaurant or in the informal setting of the bar or lounge. As well as serving real ale, the bar and Lounge also offers a wide variety of bar snacks from 12 noon until 2pm. Coffee and refreshments are available throughout the day and into the evening, with dinner served from 7pm.
The Greyhound Coaching Inn offers 33 en-suite bedrooms all individually decorated to a high standard. We offer conference and meeting facilities as well as catering for parties, celebrations and weddings. Private parties and celebrations are offered in the unique atmosphere of The Vaults as well in the Christina Room located on the first floor.
Mother's Day 15th March
Treat your Mum to a very special Mothering Sunday Carvery in The Greyhound Inn Restaurant
View the menu and reserve your table now
Weekend Offers on Dinner, Bed and Breakfast
We've got something for everyone from Friday Night to Monday Morning on a range of weekend dinner, bed and breakfast offers - from just £80 per couple. Find out more...
Find us at J20 of the M1
Historically, Lutterworth has always been at the centre of the English transport network. For centuries, there were a number of Coaching Inns in the town. Today, The Greyhound Coaching Inn is the only coaching inn to keep up a centuries old tradition.
The hotel is ideally situated on J20 of the M1 with easy and convenient access to the M1, M6, A14, A5 and A50 as well as to the towns of Rugby, Coventry, Leicester, Hinckley, Market Harborough and Birmingham. Being located at the crossroads of all these major routes, the hotel is just 2 mins from M1 J20, 10 minutes from J1 M69, 5 minutes from J1 M6, only 20 minutes from Donnington Race Track and just 30 minutes from The NEC. When you enter Lutterworth, look out for the brown tourist signs for The Greyhound which will take you straight to the nearest public car park at the rear of the hotel.
Certificate Of Excellence Trip Advisor Award
As a family owned and managed hotel we rely on word of mouth and recommendation. We are particularly pleased therefore to receive the Trip Advisor Excellence Award. You can see what others say by clicking on the image.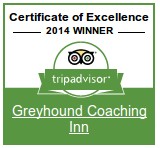 Book a Room
Online booking and real time availability makes it easy to book your accommodation at the Greyhound
Click Here to Book a Room

Greyhound News
Valentines Day
January 7th, 2015
We're ready to treat your loved one to a special Valentines Night Menu! Spoil them f...
New Year..New Menus
January 2nd, 2015
We wish all our customers a very Happy New Year! From 3rd January the Greyhound Inn Restau...
More News Items
Stay in Touch
Stay in touch with the Greyhound, sign up for our email newsletter, it's full of news about upcoming events, special offers and much more.