The traditional courtyard provides the main entrance to the Hotel under the original archway which defined the building as a Coaching Inn.
During the summer months, the courtyard provides a pleasant atmosphere in which to relax and has been used on many occasions for outdoor entertaining, summer barbeques, weddings and parties.
From the courtyard you will find the main entrance to the Hotel, Greyhound Inn Restaurant, Reception, Lounge and Bar.
Informal, comfortable dining in the Lounge and Bar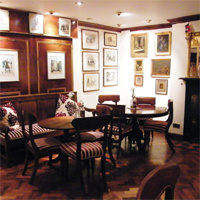 The Lounge and Bar are welcoming, comfortable and relaxing. A wide variety of light lunches and light bite meals are available from midday until 2.00pm, Monday to Saturday.
There is no need to reserve a table in the lounge or bar area at lunchtime. During the evening the Light Bites menu is available from 7pm until 9.30pm for those preferring a less formal dining environment.
The Bar is open all day and of course, real ale is served!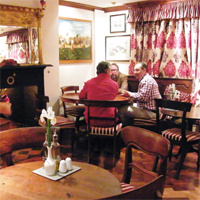 Whatever your dining requirements, The Greyhound offers something to suit everyone.
For the Greyhound Inn Restaurant it is advisable to book and you can do that by calling us on 01455 553307 or email bookings@greyhoundinn.co.uk

Online booking and real time availability makes it easy to book your accommodation at the Greyhound
Click Here to Book a Room

New Restaurant Menu
April 30th, 2016
New A La Carte Menu is now available in The Greyhound Inn Restaurant. New dishes for this ...
A feast of new menus
February 1st, 2016
Goodbye January. Hello February…and with it a feast of new menus from The Greyhound ...
Mother's Day
January 28th, 2016
Sunday March 6th Just launched our special Mother's Day menu for 6th March. Served 1...
More News Items
Stay in touch with the Greyhound, sign up for our email newsletter, it's full of news about upcoming events, special offers and much more.