The Vaults is located in the old arched cellars of the Greyhound Coaching Inn. Fully renovated and refurbished by owner Robert Eggleston and his daughter, Charlotte, The Vaults offers a unique atmosphere for private parties and celebrations.
The Vaults has played host to birthday parties, anniversary dinners, charity events, hen parties and even Santa's Grotto.
Here are what some of our customers have said about the private events we have organised.
Why not complete your private event with overnight accommodation? The Greyhound Coaching Inn offers 33 individually decorated en-suite bedrooms where you can soak up the atmosphere of this Grade II listed hotel and enjoy the surroundings.
If you have a larger group for a private event, wedding reception or celebration, you may also be interested in looking at The Restaurant which provides a traditional setting for 70 guests or The Christina Room located on the first floor.
To discuss how you can use The Vaults for your special occasion, and to book, please call Charlotte on 01455 553307 or email bookings@greyhoundinn.co.uk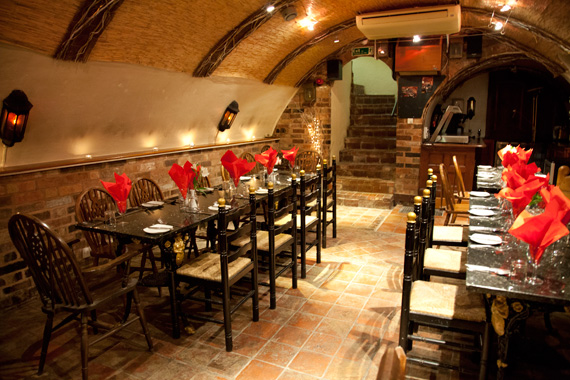 Online booking and real time availability makes it easy to book your accommodation at the Greyhound
Click Here to Book a Room

New A La Carte Restaurant Menu
August 19th, 2015
The A La Carte menu in the Greyhound Inn Restaurant has been updated with new seasonal veg...
Light Bites Menu July 2015
July 20th, 2015
The Light Bites Menu has been updated with some new additions but keeping your favourites....
More News Items
Stay in touch with the Greyhound, sign up for our email newsletter, it's full of news about upcoming events, special offers and much more.