View Restaurant Menu
The Greyhound Inn Restaurant A La Carte Menu is updated regularly to bring you seasonal choices as well as firm customer favourites. You can download and print the menu from the link here.
Weekend Offers on Dinner, Bed and Breakfast
We've got something for everyone from Friday Night to Monday Morning on a range of weekend dinner, bed and breakfast offers - from just £80 per couple. Find out more...
Find us at J20 of the M1
Historically, Lutterworth has always been at the centre of the English transport network. For centuries, there were a number of Coaching Inns in the town. Today, The Greyhound Coaching Inn is the only coaching inn to keep up a centuries old tradition.
The hotel is ideally situated on J20 of the M1 with easy and convenient access to the M1, M6, A14, A5 and A50 as well as to the towns of Rugby, Coventry, Leicester, Hinckley, Market Harborough and Birmingham. Being located at the crossroads of all these major routes, the hotel is just 2 mins from M1 J20, 10 minutes from J1 M69, 5 minutes from J1 M6, only 20 minutes from Donnington Race Track and just 30 minutes from The NEC. When you enter Lutterworth, look out for the brown tourist signs for The Greyhound which will take you straight to the nearest public car park at the rear of the hotel.
Certificate Of Excellence Trip Advisor Award
As a family owned and managed hotel we rely on word of mouth and recommendation. We are particularly pleased therefore to receive the Trip Advisor Excellence Award. You can see what others say by clicking on the image.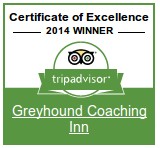 Online booking and real time availability makes it easy to book your accommodation at the Greyhound
Click Here to Book a Room

Summer Madness has arrived!
June 5th, 2015
Summer Madness arrives on 5th June with 20% off selected Prosecco and Sparkling Wines. Ava...
Specials Board Update
May 20th, 2015
Fancy eating out? We've just updated the Specials Board. **MENU UPDATE**  The Specia...
Dinner, Bed and Breakfast
May 11th, 2015
Need somewhere to stay during the week? When you're staying away from home during th...
More News Items
Stay in touch with the Greyhound, sign up for our email newsletter, it's full of news about upcoming events, special offers and much more.