Creating guest bedrooms, a Restaurant, bar, lounge and the relaxing atmosphere of the Courtyard.
Since returning from maternity leave (yes, Robert is now a Grandad!), his daughter Charlotte is concentrating on coordinating weddings, functions and events with unrivalled attention to detail for all customers.
Dedicated to Providing a Great Experience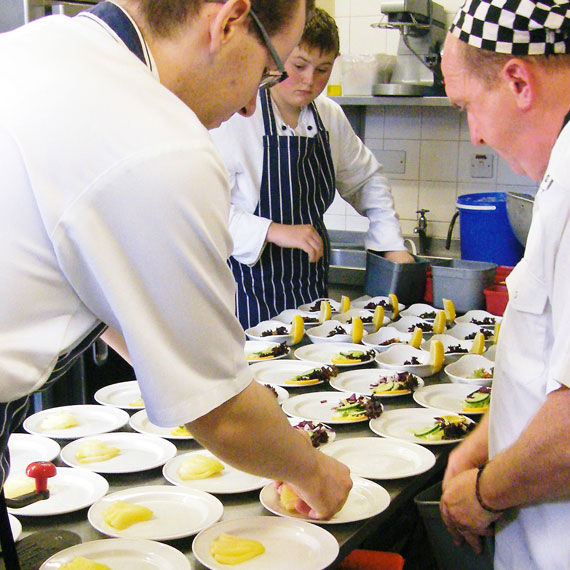 Head Chef Steve Dennis has been part of the fabric of The Greyhound for 21 years and has been instrumental in building an enviable reputation for quality, well prepared and delicious food. His colleague Will Smith has worked with him for 17 years. Together they are dedicated to ensuring that as far as eating out goes, whether it be a meal in our restaurant, a Sunday lunch or a private party, they provide the customer with an enjoyable and memorable experience.
From Housekeeping to front of house, all of the key Greyhound personnel have considerable experience individually. Roz has been part of The Greyhound family for 4 years and took over from Charlotte in the role of General Manager in May 2011, whilst she left to have her baby.
The proprietor Robert Eggleston - whilst likened to Basil Fawlty by some customers - tries to provide a unique experience far removed from that of branded hotels.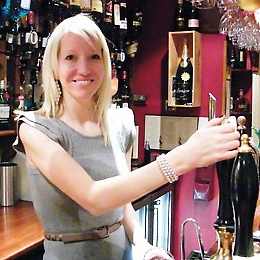 Why, for the catering industry, are the key personnel at The Greyhound for such a relatively long time? The answer is simple - they enjoy what they are doing and take great pride in achieving the expectations of customers who choose The Greyhound for the traditional ambience and comforts of a coaching inn.
Why do customers keep coming back?
Our customers keep coming back - several have been returning for the past twenty years!.
They keep coming back because they want to get away from the uniformed, anonymous branded hotels which are now so prevalent.
They enjoy the atmosphere of an old coaching inn with its cobbled Courtyard, the relaxed informality where the staff know your name and your tipple, the well-presented and tasty food, the real ale - in fact, what they imagine an eighteenth century coaching inn to look and feel like. Foreign travellers, as expected, enjoy the authentic ethnicity!

Online booking and real time availability makes it easy to book your accommodation at the Greyhound
Click Here to Book a Room

New A La Carte Restaurant Menu
August 19th, 2015
The A La Carte menu in the Greyhound Inn Restaurant has been updated with new seasonal veg...
Light Bites Menu July 2015
July 20th, 2015
The Light Bites Menu has been updated with some new additions but keeping your favourites....
More News Items
Stay in touch with the Greyhound, sign up for our email newsletter, it's full of news about upcoming events, special offers and much more.