Parties, birthday parties, special occasions, discos, anniversaries, celebrations, wedding receptions - whatever special occasion you want to celebrate, you can do it in style at The Greyhound Coaching Inn.
Whether you want a relaxing evening or you want to dance the night away, the staff at The Greyhound will take good care of you and your guests.
Everything you Need for a Special Occasion
You can expect traditional first-class hospitality, full catering facilities for sit down meals or buffet meals and we can arrange any extras you need to make your party or special occasion an event to remember. All rooms are available to hire with bar, full catering and disco hire.
Your party or event can be held in the following rooms:
The Vaults - the perfect venue for a private party, celebration or for private hire, located in the converted cellar of The Greyhound
The Christina Room - located on the first floor and with its own bar area, is ideal for dinners, parties, banquets and after-dinner entertainment
Each room offers its own individuality depending on the type of event you are planning. The Vaults provides facilities for sit-down meals only - no dance floor or disco is available for this room.
We can also offer you assistance in planning and organising your party or event including magicians, entertainers, photographers, flowers, speakers, decorations - whatever you need to make your event memorable, just ask us.
Call 01455 553307 to discuss your specific party or event requirements or email us if you prefer.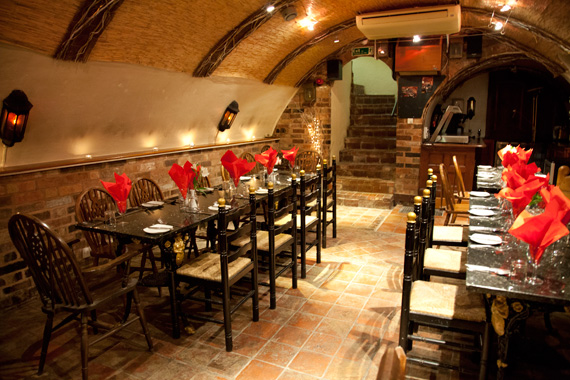 Stay the Night
You may also be interested in overnight accommodation for you and your guests. The Greyhound Coaching Inn has 32 en-suite bedrooms all individually decorated to a high specification.
When you are looking for a party venue in South Leicestershire that promises to give you an event to remember then you need look no further than the Greyhound Coaching Inn and Hotel in Lutterworth.
Call 01455 553307 to discuss how we can make your party something to celebrate!
View and download our Event brochure

Online booking and real time availability makes it easy to book your accommodation at the Greyhound
Click Here to Book a Room

New Year, New Menu
January 5th, 2017
With a Happy New Year, comes a happy new menu! Get all cosy this January with our new hear...
New December Menu
December 3rd, 2016
New A La Carte Restaurant Menu From 3rd December, we're serving a new a la carte men...
New menus all round
November 3rd, 2016
Restaurant, Lunch and Lightbites – new menus all round! New menus launched throughou...
More News Items
Stay in touch with the Greyhound, sign up for our email newsletter, it's full of news about upcoming events, special offers and much more.