Having recently received their civil wedding licence, Lutterworth Town Hall staged its first Civil Wedding Ceremony on Saturday 6th October.
As well as being a first for the Town Hall, the occasion also saw the teaming up the Town Hall with The Greyhound Coaching Inn to provide a day to remember for Victoria and James Goadby.
The Hansom Room on the first floor provided the setting for the ceremony before being transformed for the wedding breakfast. "Everyone had a terrific time, thank you, and we were blown away with how the Town Hall looked for the reception. The staff from The Greyhound were all amazing." commented Victoria. Catering and organisation of the day was provided through Charlotte Miners at The Greyhound. The bride arrived to the sound of a string quartet and the couple were joined by 76 guests for the ceremony and wedding breakfast. As a pianist played throughout the meal, staff from The Greyhound served a delicious hot and cold buffet followed by homemade berry pavlova and plenty of champagne!
The wedding party completed their celebrations with a party at The Greyhound.
"We hope this will be the first of many weddings here at the Town Hall," commented Stephen Walkley, Lutterworth Town Hall. "It was a huge success. The Hansom Room lends itself very well for the ceremony as well as the reception. What a fantastic start!"
To view what the Town Hall and The Greyhound Coaching Inn have to offer for civil wedding ceremonies, wedding receptions and parties, you can visit the annual Wedding Fair at Lutterworth Town Hall on Sunday 21st October from 10am – 4pm. Entry is free and The Greyhound is providing free canapés and champagne.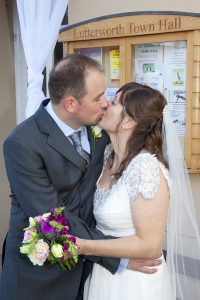 [photographs courtesy of Jill Thomson Photography 07814 689173]
Tags:
Greyhound Coaching Inn
,
lutterworth
,
weddings
Posted