Robert Eggleston, his daughter Lara and his son Richard, are getting on their bikes for the London to Paris bike ride at the end of May. Lara started her first teaching post last year and has opted to support her school's involvement with the Sinkala Nursery School in Zambia through the U-Foundation, a UK-registered charity supporting communities in less developed parts of the world. Anyone who knows Robert, also knows this is a massive challenge.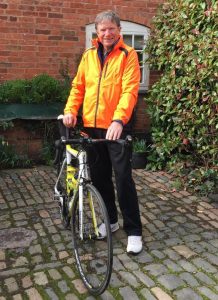 Here's what he has to say:
"As an OAP and generally, clapped-out couch potato, the thought of joining her and doing myself a bit of good, by way of a refreshing bike ride, had some appeal. Having now started my training, reality has set in. I had forgotten that the many years of abuse as a serious smoker and legendary boozer a price had to be paid and retribution came as a quadruple heart bypass. My commitment to this project is, I suppose, my penance as bicycling, let me tell you, is purgatory. Saint Paul was to go on his knees to Damascus. As I am no saint, a trip to Paris on a bike will have to do by way of penitence for my previous life.
This is the first, and probably the last time, I will attempt a sponsored event. Please be generous when you give support to those less fortunate."
Many thanks to everyone who has so generously shown their support to Robert. It really is very much appreciated.
If you'd like to get involved and support Robert, Lara and Richard to get them peddling faster, you can find out more about the charity and Robert's fundraising at http://uk.virginmoneygiving.com/RobertEggleston. Thank you.
Tags:
Charity
,
Greyhound Coaching Inn
,
lutterworth
Posted