Fabulous? Absolutely! Comedy Dining at The Greyhound
Saturday, 28th Sept 2019
Brand New Show!
£39.95 per person to include:
Welcome drink
A 3-course meal including tea/coffee served in The Christina Room
Drinks waiter*
The show starts in the Bar at 7.30pm
Group and individual bookings - please let us know the size of your party so we can seat you together.
Tickets available from Reception or by calling 01455 553307.
Please select your menu choice when you buy your ticket. See menu below.
*Show lasts approximately 3 hours. Drinks not included in ticket price, please order from your waiter.
Dress code: Smart casual  (no trainers please)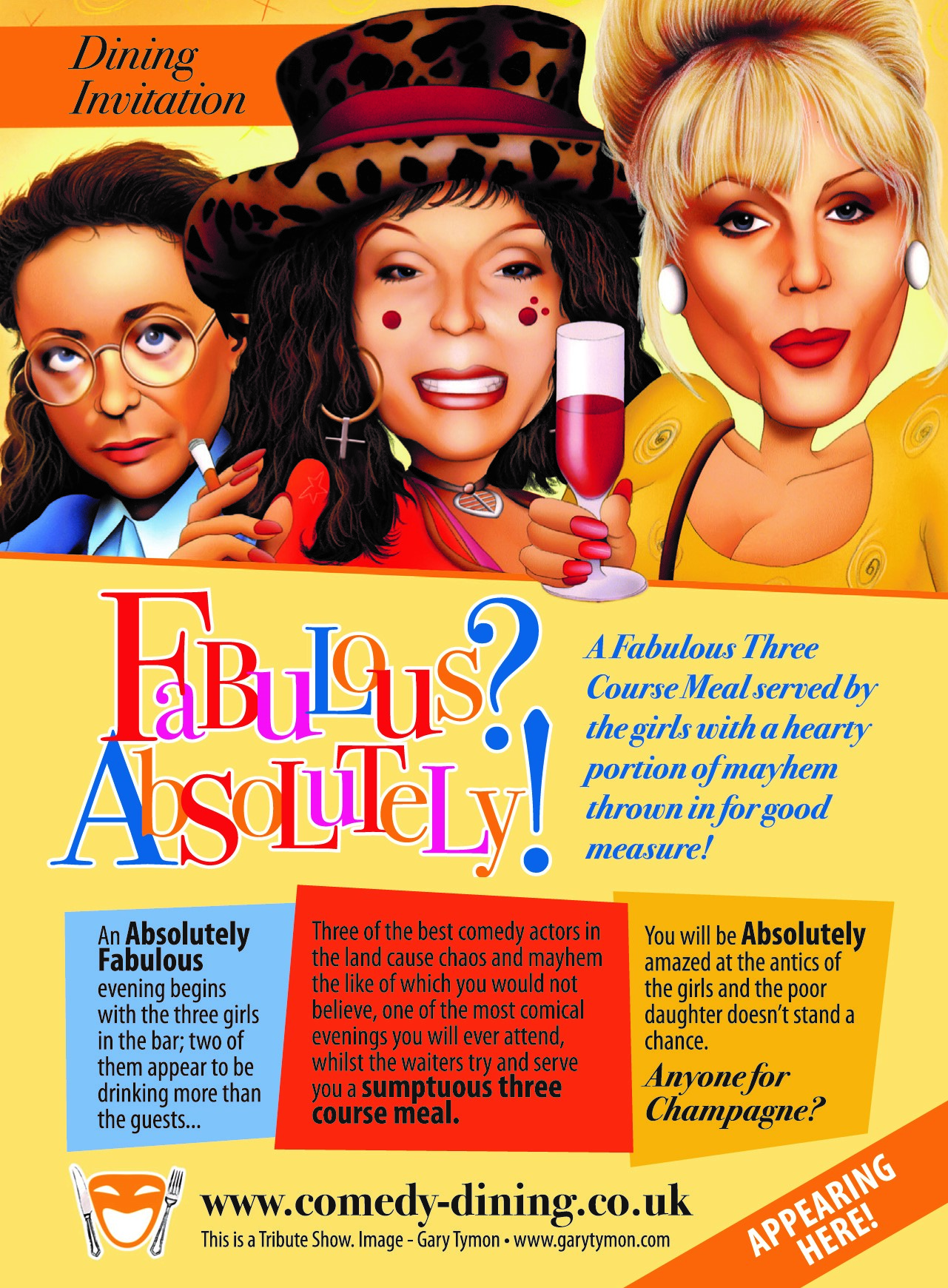 The girls are all attending a Gala, Saffy having been dragged along, only to arrive and find out that they are not on the guest list. They try various means of entering the party, only to get hideously drunk and be thrown out.
The evening starts in the bar area at 7.30pm with Patsy, Eddie and Saffy mingling with the guests, Saffy trying to keep control of the situation as Patsy and Eddie are generally making a nuisance of themselves taking peoples drinks etc.
Saffy comes back with the seating plan and they realise they are not invited, so they decide to sneak in by pretending to be part of the staff.
During the food serving, Eddie and Patsy (Eddie dragging Saffy in) enter with pinnies on, putting down a plate or two and then trying to steal unoccupied seats or even push guests out of their chairs/sit on knees. Try to sit next to, and make a huge deal about the 'famous' person they invented earlier. If they get a seat, then they decided that they don't like the seats "These idiots aren't famous enough for us" and move off. Saffy actually helps with the serving and chatting with the guests.
The actresses continue in the same manner throughout the evening, discarding the pinnies and recreating some of the iconic sketches from the series, coming together after the dessert has been served to encourage the guests to join in singing the theme song from the show Wheels on Fire.
Three of the best actresses in the land give a performance that will not be forgotten, adult humour is involved.
Fabulous? Absolutely! Comedy Dining Menu
Starters
Welch Rarebit (Cheese on Toast with Beer  Spiced Sauce & Mustard)
Crabcake with Dill & Lemon Dip
Champagne & Strawberry Shot
Bruschetta
Cranberry & Brie Wonton
OK, sweetie, darlings - starters will be served at your table for you to share.
Mains
Poached Salmon, Champagne & Prawn Velute (Minted New Potatoes & French Beans)
Or
Wild Mushroom & Chive Risotto & Tossed Salad
Desserts
Champagne Rhubarb Fool (Champagned Sorbet)
Or
Salted Caramel Cheesecake,  Whipped Crème Chantilly Or Vanilla Ice Cream
Coffee & Petit Four
Please advise at time of booking any food allergies or intolerances so we can offer alternative choices.
Download Fabulous? Absolutely! Menu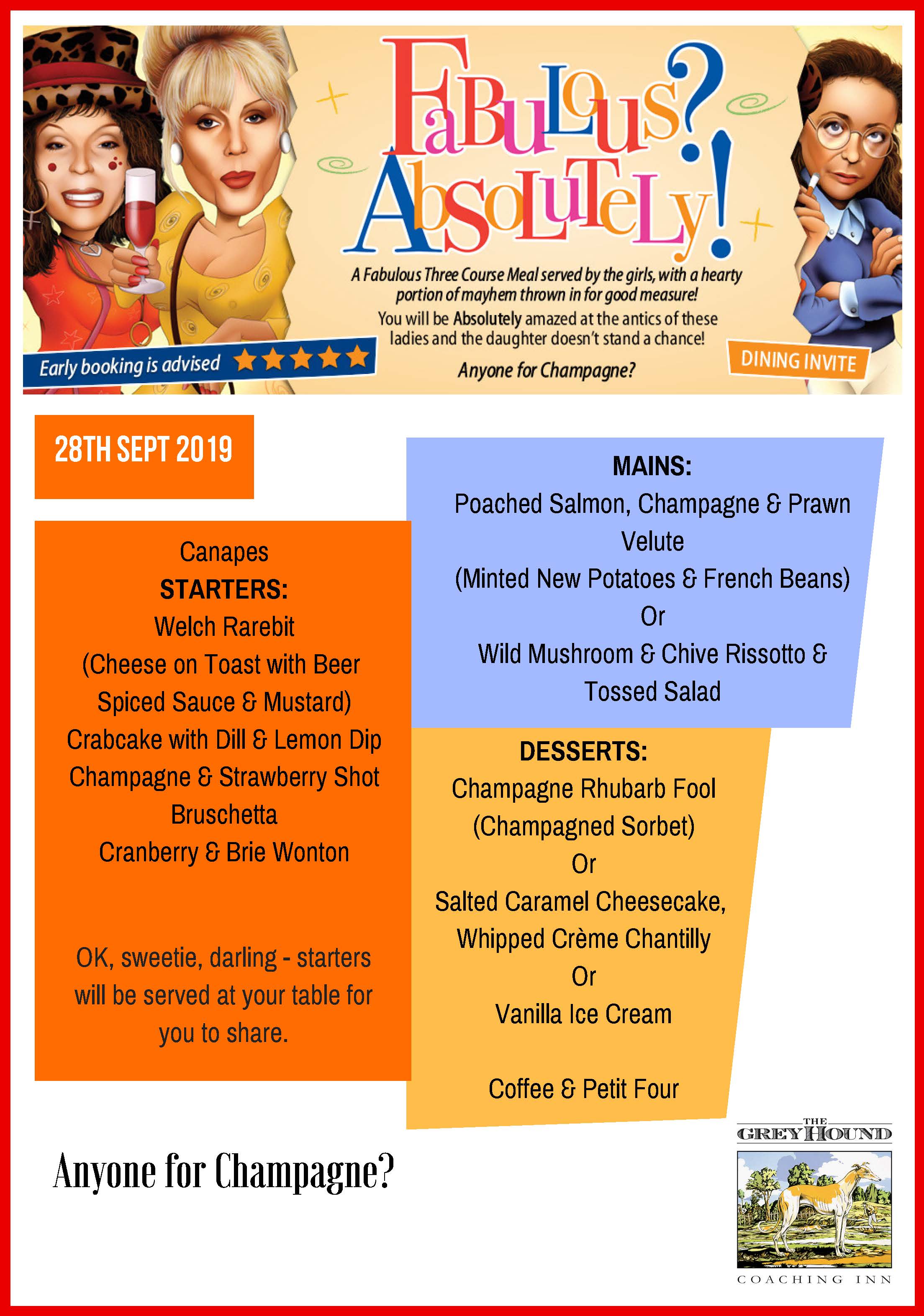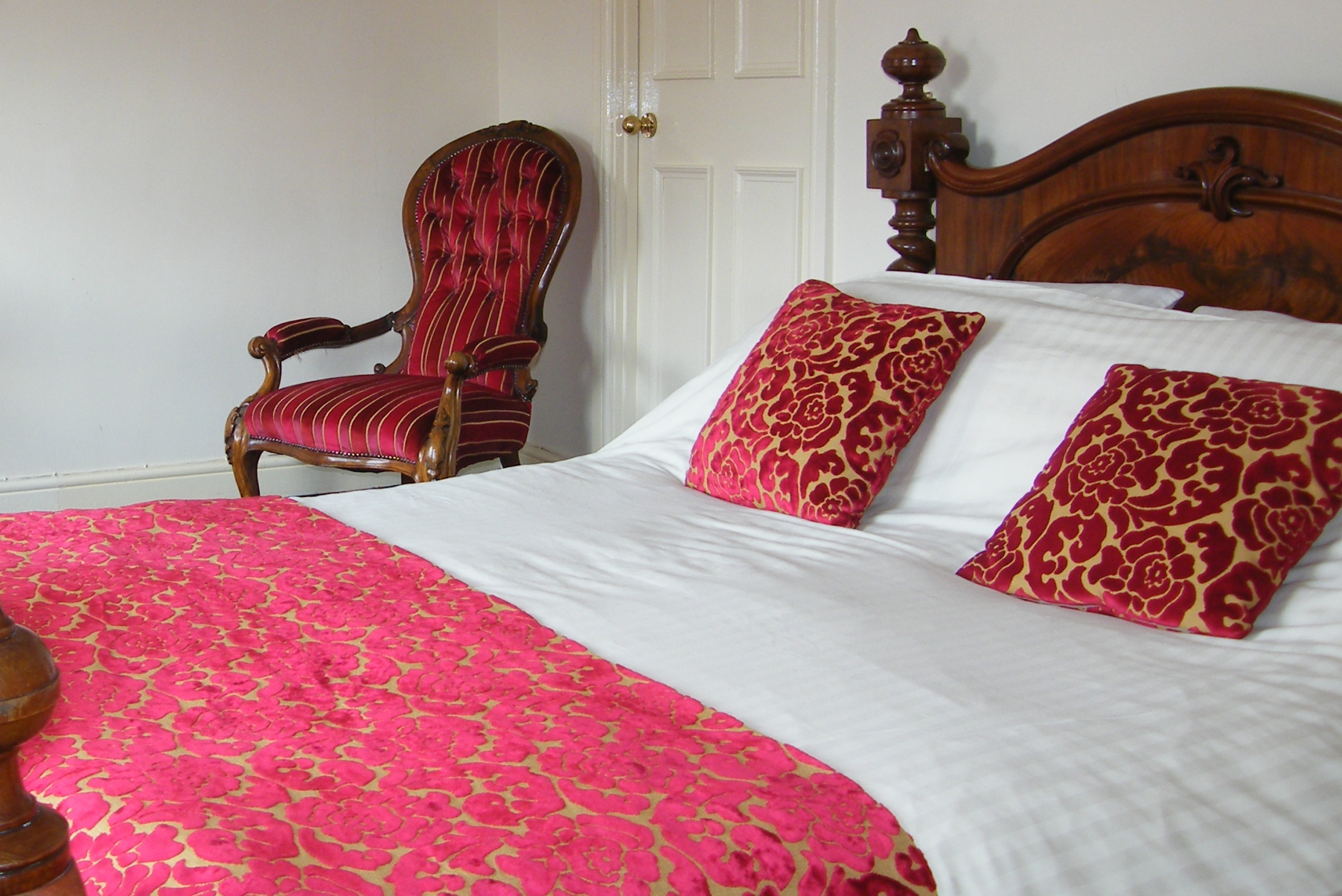 Stay the Night
For our Fabulous? Absolutely! dinner guests we have a special accommodation offer for Saturday 28th September 2019.
Two people sharing a Classic Double Room similar to the one shown, just £80 including breakfast!
To book, please call 01455 553307 or email.