Fawlty Towers Christmas Special 2022
Comedy Dining at The Greyhound
Dates available:
Saturday, 3rd December 2022 **SOLD OUT**
Friday, 9th December 2022
Friday, 23rd December 2022
£39.95 per person to include:
A warm welcome to The Greyhound Inn with a glass of Prosecco
A 3-course meal including tea/coffee served in The Christina Room
Drinks waiter*
The show starts in the Bar at 7.30pm
Group and individual bookings - please let us know the size of your party so we can seat you together.
Tickets are available from Reception or by calling 01455 553307.
Please see the menu below and confirm your selection(s) at booking.
Please double-check which event date you are choosing at the time of booking.
*Show lasts approximately 3 hours. Drinks not included in ticket price, please order from your waiter.
Dress code: Smart casual  (no trainers please)
View and download Menu
Fawlty Towers Christmas Special
It's Christmas at Fawlty Towers, but Basil's finding it a challenge to get into the Christmas spirit: He booked a father Christmas who hasn't turned up (and Manuel is a very poor substitute); there's rat poison on the turkey so he has to turn to a local chef for help (while keeping the health inspector at bay); he still hasn't hung the decorations despite promising Sybil it would be done before dinner; and to make things worse, there's a German Christmas Market taking place next door.
As long as no one mentions the war, surely everything will go smoothly…? 
Join Basil, Sybil, and Manuel for a hilarious seasonal celebration featuring favourite moments from the TV series with a special Christmas twist.
Fawlty Towers Christmas Special Menu
A warm welcome to the Greyhound with a glass of Prosecco
Starters
Sybil's Perfect Prawn Cocktail (GF)
Or
Roast Mushroom and Tarragon Soup with Tony's Sourdough Bread (GF* & V)
Main Course
Basil's Christmas Roast Surprise Hand Carved Turkey Breast, Pigs in Blankets, Savoury Stuffing and Turkey Jus (GF**)
Or
Manuel's Vegetable Paella (GF & V)
Served with Seasonal Vegetables, Roast and New Potatoes
Dessert
The Major's Eaton Mess (GF)
Or
Polly's Profiteroles with Chocolate Sauce
Freshly Brewed Coffee
(GF*) Gluten-free without sourdough bread
(GF**) Gluten-free without pigs in blankets and stuffing
*please make your menu choices at the time of booking. Please advise dietary requirements, intolerances or allergies at the time of booking.
View and download menu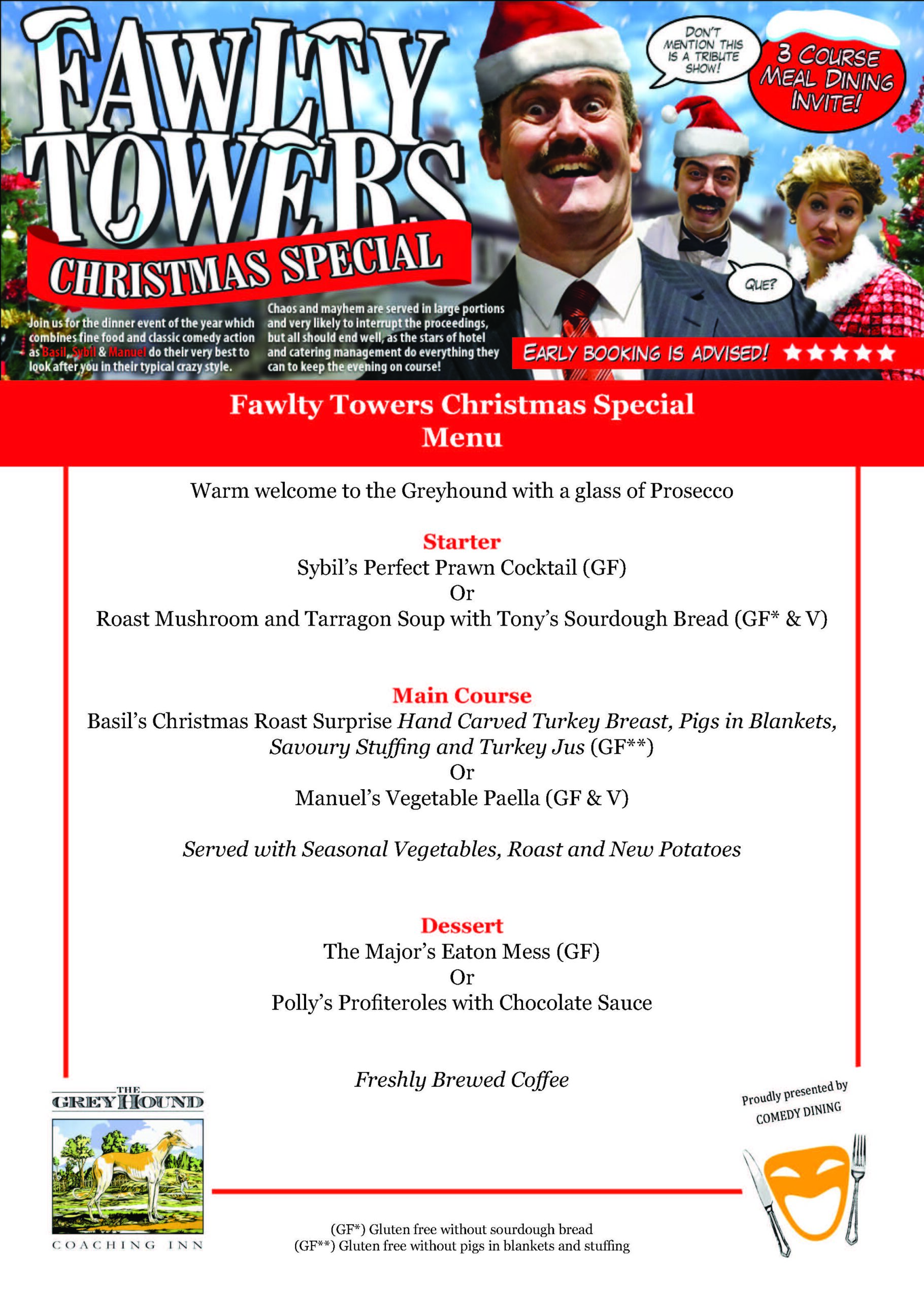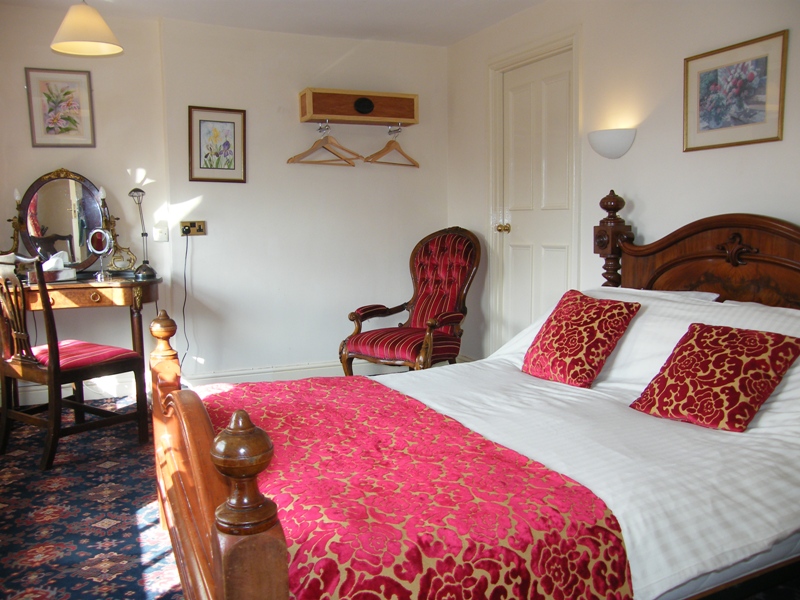 Stay the Night
For our Fawlty Towers Christmas Special dinner guests, we have a special accommodation offer for Saturday 3rd, Friday 9th, and Friday 23rd December 2022.
Two people sharing a Classic Double Room similar to the one shown, just £80 including breakfast!
To book, please call 01455 553307 or email.