Fools At Fawlty Towers Comedy Dining Christmas Special
Friday, 23 December 2022
£39.95 per person to include:
Welcome drink
A 3-course meal including tea/coffee served in The Christina Room
Drinks waiter*
The show starts in the Bar at 7.30pm
Group and individual bookings - please let us know the size of your party so we can seat you together.
Tickets are available from Reception or by calling 01455 553307.
Please see menu below and confirm your selection(s) at booking.
*Show lasts approximately 3 hours. Drinks not included in ticket price, please order from your waiter.
Dress code: Smart casual  (no trainers please)
View and Download the Menu
Comedy Dining are pleased to bring together two iconic shows, after our success with Only Fools and 3 Courses and Fawlty Towers, we now have Fools @ Fawlty Towers!
Four professional actors will portray different characters during the evenings entertainment including, Basil, Del Boy, Rodney, Manuel, Uncle Albert, Trigger, Sybil, Boycie, Slater, Raquel, Tony, Cassandra.
Boycie has organised a surprise 50th Birthday Party for Del Boy and has booked the function Suite at Fawlty Towers. Basil is not happy, but Sybil is looking forward to a fabulous night.
Rodney and Cassandra have got the message that it is Fancy Dress party, any guesses who they will arrive as?
Uncle Albert tries to organise a Sing a long, as only he can!
Grand Finale with Raquel and Tony - don't miss this.
All the above and a superb three course meal, LOVELY JUBBLY.
Fools @ Fawlty Towers Christmas Special Menu
23 December 2022
A Warm Welcome to the Greyhound with a glass of Prosecco
Starter
Festive Seafood Quiche with Lemon Dill and Crème Fraiche
Or
Minestrone Soup with Olive Oil Bruschetta (GF & V)
Main Course
Duo of Christmas Meats to include Roast Turkey Breast & Honey Roast Ham, Chestnut Stuffing, Cranberry Sauce and Pan Gravy (GF*)
Or
Nut Cutlets with Santa's Tomato Sauce (GF & V)
Served with a Selection of Seasonal Vegetables, Roast and New Potatoes
Dessert
St David's Apple and Cinnamon Crumble with Custard
Or
St Stephen's Peach Melba with Raspberry Sauce (GF)
Or
Lady Tina's Mixed Ice Cream
Beata's Freshly Filtered Coffee
and Warm Mince Pies
(GF*) Gluten-free without stuffing
Please make your menu choices at the time of booking. Please advise dietary requirements, intolerances or allergies at the time of booking.
View and download the menu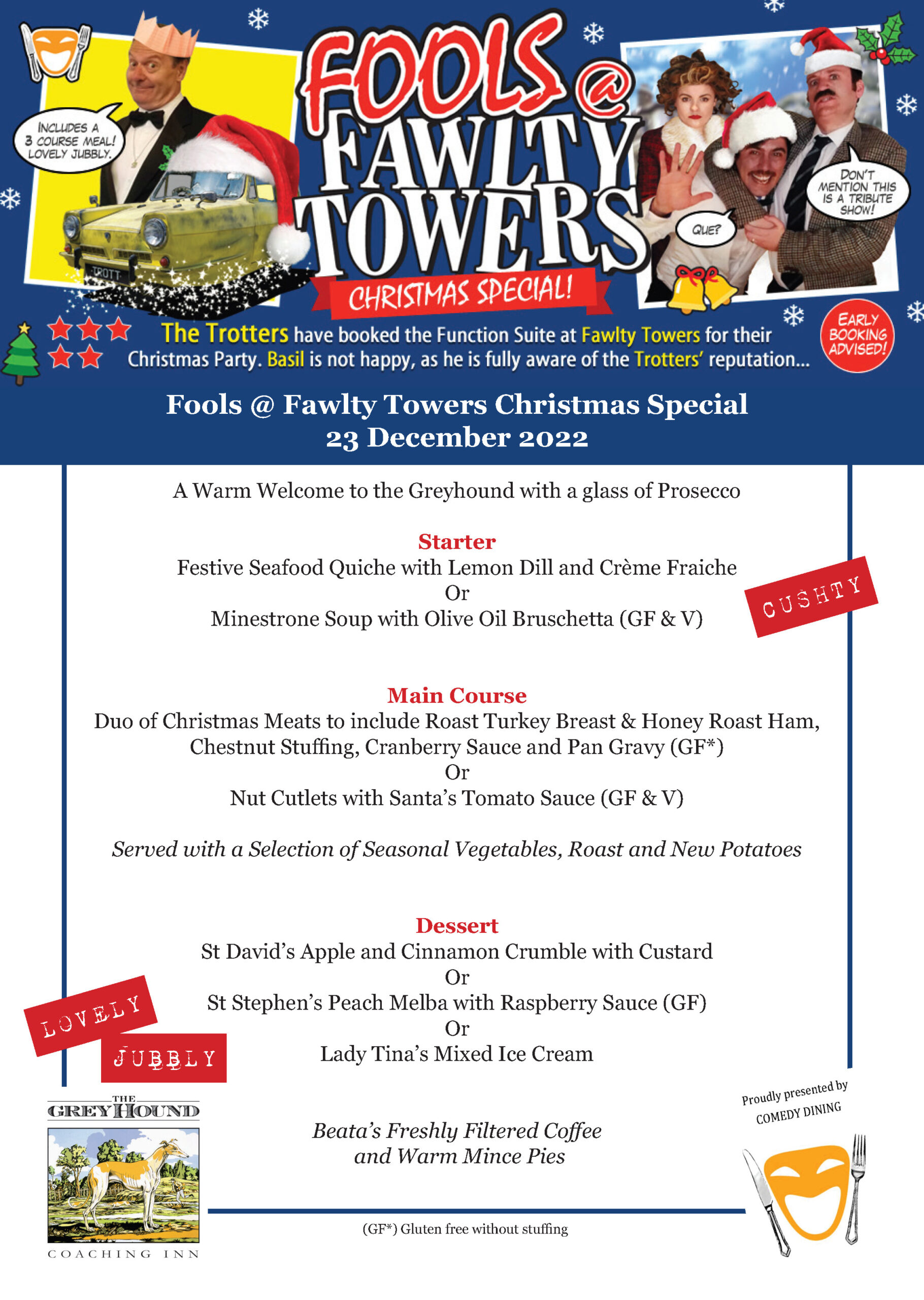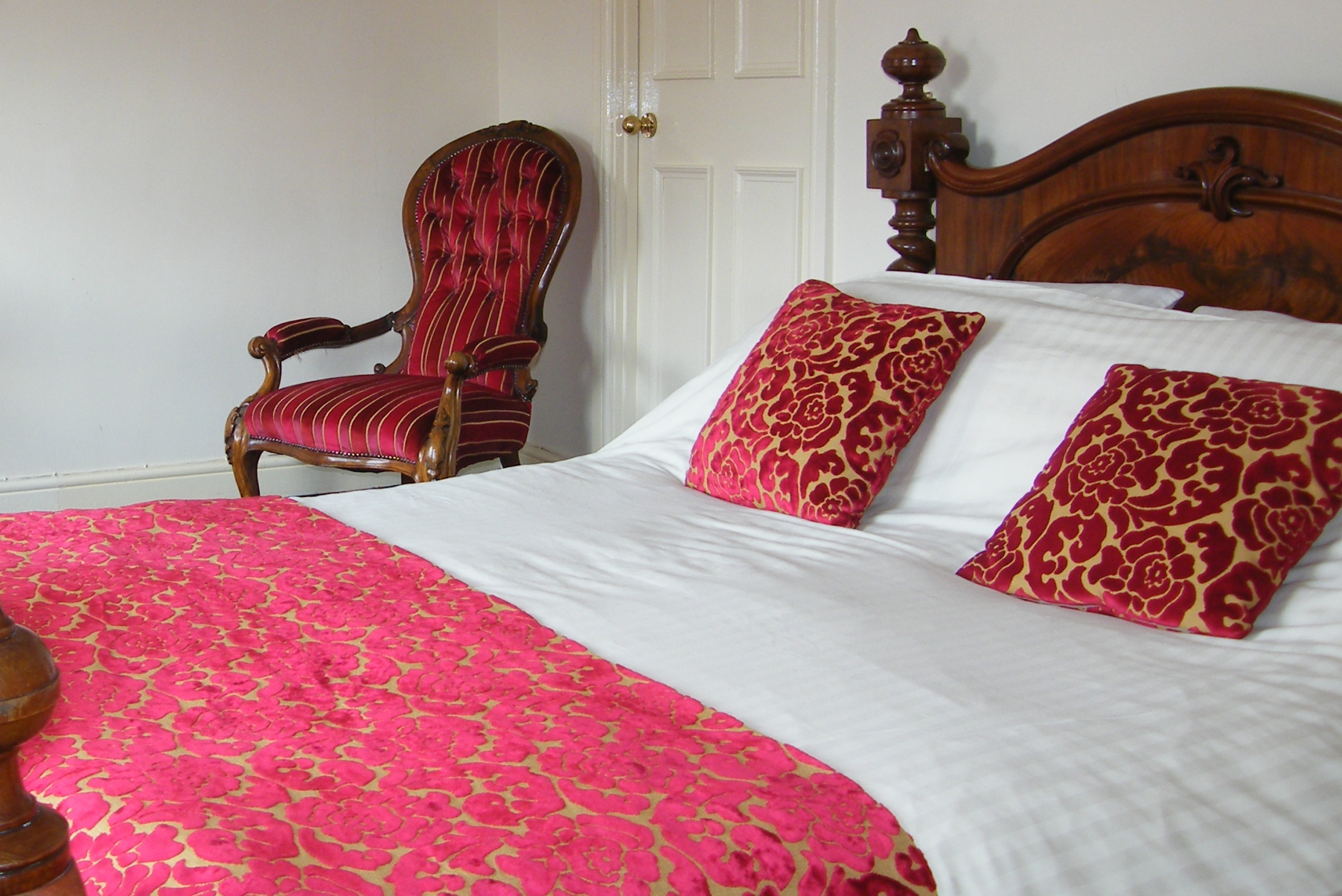 Stay the Night
For our Fools At Fawlty Towers dinner guests we have a special accommodation offer for Friday 23 December 2022.
Two people sharing a Classic Double Room similar to the one shown, just £80 including breakfast!
To book, please call 01455 553307 or email.