Fools At Fawlty Towers Comedy Dining at The Greyhound
Saturday, 28th March 2020
Brand New Show!
£39.95 per person to include:
Welcome drink
A 3-course meal including tea/coffee served in The Christina Room
Drinks waiter*
The show starts in the Bar at 7.30pm
Group and individual bookings - please let us know the size of your party so we can seat you together.
Tickets available from Reception or by calling 01455 553307.
Please select your menu choice when you buy your ticket. See menu below.
*Show lasts approximately 3 hours. Drinks not included in ticket price, please order from your waiter.
Dress code: Smart casual  (no trainers please)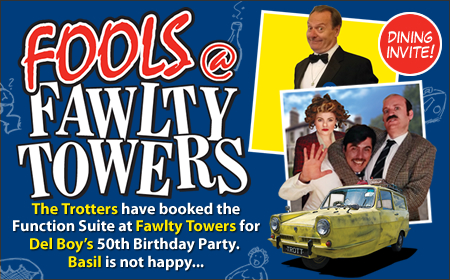 Comedy Dining are pleased to bring together two iconic shows, after our success with Only Fools and 3 Courses and Fawlty Towers, we now have Fools @ Fawlty Towers!
Four professional actors will portray different characters during the evenings entertainment including, Basil, Del Boy, Rodney, Manuel, Uncle Albert, Trigger, Sybil, Boycie, Slater, Raquel, Tony, Cassandra.
Boycie has organised a surprise 50th Birthday Party for Del Boy and has booked the function Suite at Fawlty Towers. Basil is not happy, but Sybil is looking forward to a fabulous night.
Rodney and Cassandra have got the message that it is Fancy Dress party, any guesses who they will arrive as?
Uncle Albert tries to organise a Sing a long, as only he can!
Grand Finale with Raquel and Tony - don't miss this.
All the above and a superb three course meal, LOVELY JUBBLY.
Fools and Fawlty Towers Menu
28th March 2020
Bucks Fizz
Starter
Spring Vegetable Broth (V.GF)
or
Prawn, Apple & Celery Cocktail with lemon and dill mayonnaise (GF)
Main Course
Roast Pork Tenderloin with a Sultana and Apple Stuffing, Smoked Bacon and a Cider Sauce
or
Twice Baked Cheese Souffle with rich Tomato Sauce
All served with a Selection of Mixed Vegetables & Minted New Potatoes
Dessert
Fresh Fruit Salad with Vanilla Ice Cream
or
Baked Egg Custard with Cream
Coffee & After Dinner Mints
View and download the menu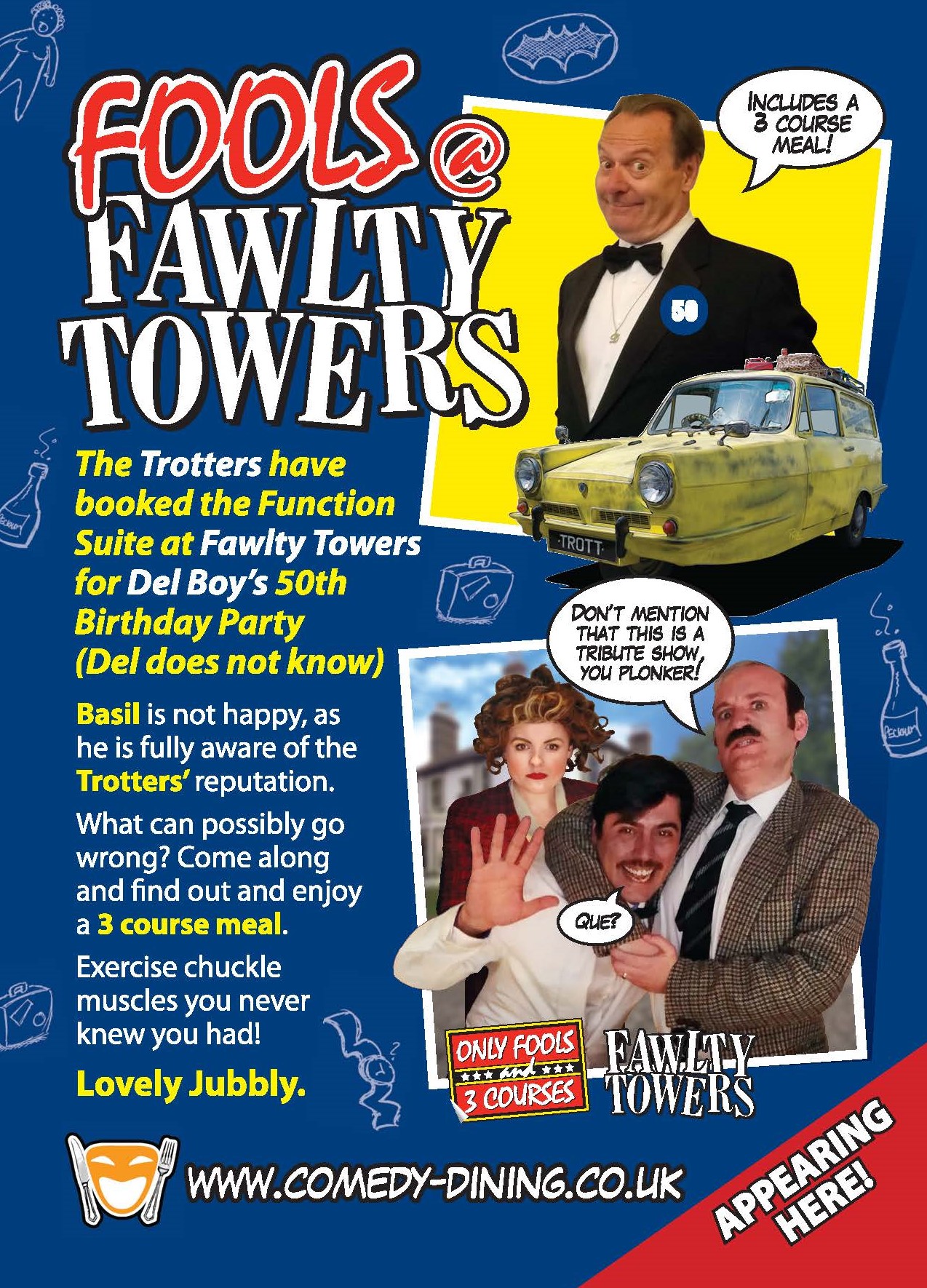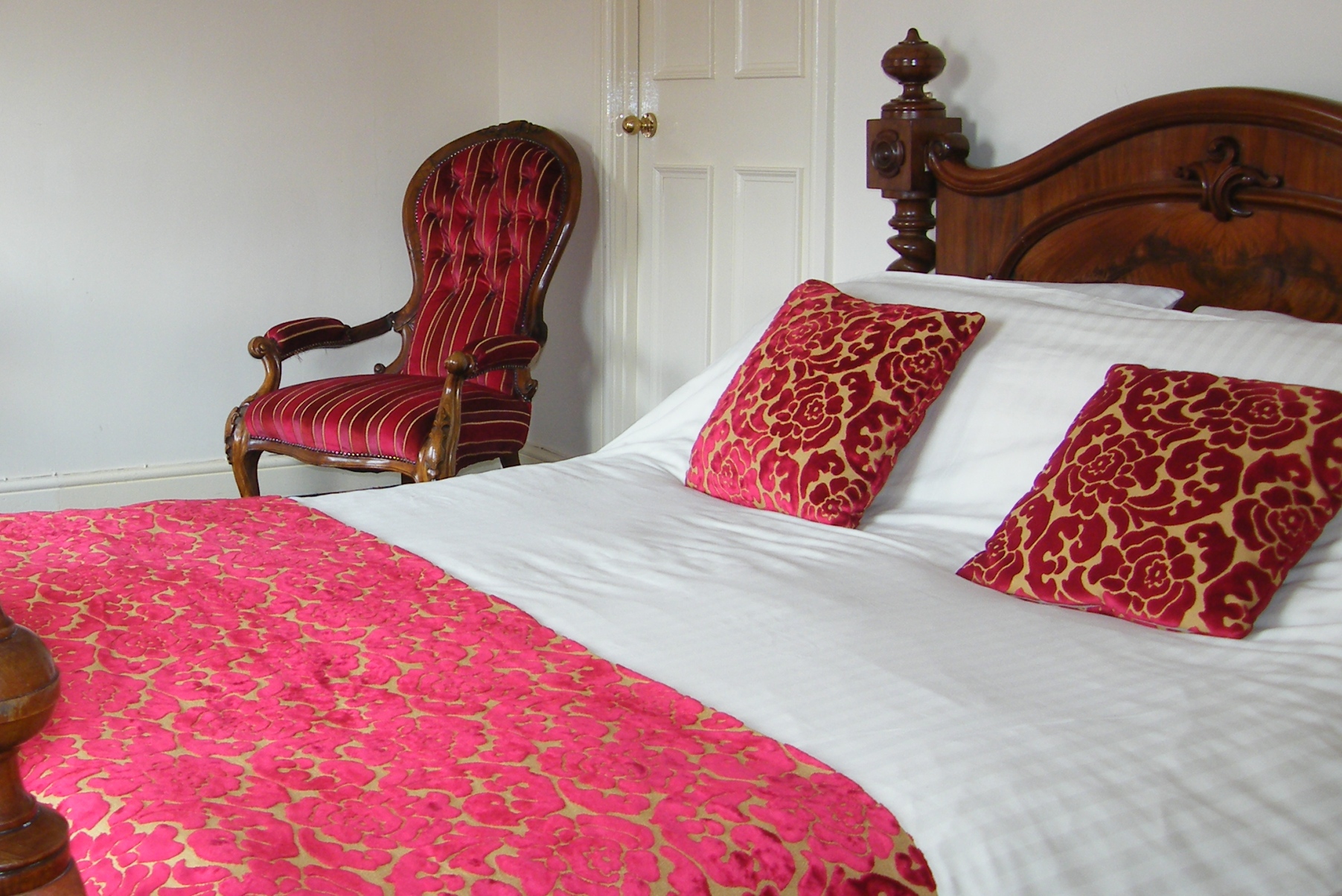 Stay the Night
For our Fools At Fawlty Towers dinner guests we have a special accommodation offer for Saturday 28th March 2020.
Two people sharing a Classic Double Room similar to the one shown, just £80 including breakfast!
To book, please call 01455 553307 or email.