Information for re-opening on 17th May 2021
We're delighted we will be able to re-open on Monday 17th May 2021, and welcome you back to The Greyhound. As we hopefully demonstrated when we were able to re-open in 2020, our priority is to ensure that everyone is safe, and that you feel comfortable to be able to enjoy visiting us once again. So, the changes we put in place will remain to give everyone space to enjoy themselves.
Please bear with us though, as most of the staff have had up to a year off, so it will take a little bit of time to get back into the swing!
We now have fewer tables to create sufficient space for everyone to be comfortable. This means that we will be operating on reduced capacity.
The enhanced cleaning routines we introduced last year remain in place throughout the venue including bedrooms, public spaces, kitchen, laundry and service areas.
Here is everything you need to know about our response to ensuring we deliver a Covid-safe service. We are abiding by all laws and regulations that have been put in place by the Government. We ask that you do too so that we can get back to normal as soon as possible. Should you choose not to adhere to the rules you will be asked to leave.
Book in advance
We are operating with reduced capacity and providing a seated table service only. On arrival you will be shown to a table suitable for the size of your party. This may be in the Restaurant, Lounge or Bar and if weather permits, also the Courtyard. Please do not wander through the venue looking for a table. We are unable to serve anyone who does not have a table, so we strongly advise you to book in advance.
Reserve a table
NHS Test and Trace
The NHS test and trace sign will be available in the venue for you to scan with the App. If you do not the App, please don't be offended when we ask to take your contact details. We need to do this to comply with Government guidelines for the re-opening of hospitality venues. 
Table Service Only
The only way we can safely deliver our service to you is for all customers to be seated at tables. Only customers seated at a table will be served. This includes the outside Courtyard space.
On arrival please speak to a member of the team who will take you to your reserved table or find you an empty table. Your server will take your order for food and/or drinks. The bar will not be open to customers for drinks orders and therefore there is no need to stand at the bar. Drinks will be brought to you. 
Please note we are following government guidelines on the number of people we can welcome to The Greyhound.  We can accept groups of up to 6 people but we have limited capacity for groups of this size.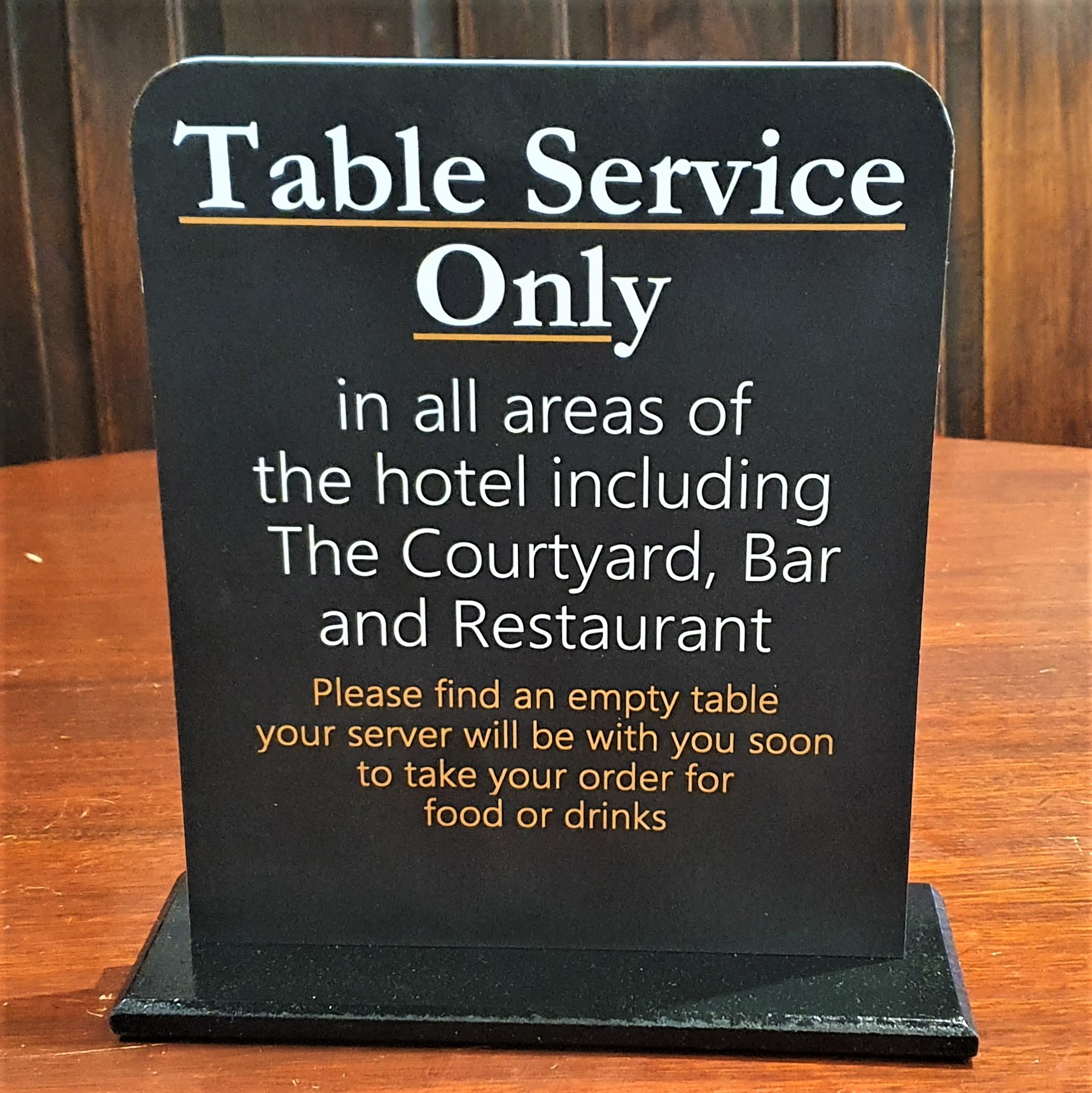 Sanitising and Social Distancing
We have provided several sanitiser points throughout the public spaces of the hotel. Please use the hand sanitiser when you arrive at The Greyhound and before you leave. And at any other time you want to!
You'll also notice that our team will be wearing PPE when they serve you. Extra cleaning is also in place with tables and other regular touch points being sanitised before and after use.
Facemasks
Face masks are to be worn by all customers (unless exempt - cards/lanyards to be shown on arrival). When you are on your feet you must be wearing a mask. This includes using the toilet facilities and when you enter and exit the premises. Please try to remain at your table for the duration of your visit and limit wandering around. This will help us all maintain the minimum 1m plus social distancing space.
There is plenty of signage provided and if you have any questions during your visit please ask your server who will be happy to assist.
Food and Drinks
We will have new menus for the Restaurant and Bar available for when we re-open and our food service will recommence with the following:
Lunchtime - Monday, Thursday, Friday and Saturday, 12 noon - 2.00pm
Evening - Monday to Thursday, 6.00pm - 9.00pm, Friday and Saturday, 6.30pm - 9.30pm. 
Sunday - there is no food service on Sundays for the time being.
Room Service - for overnight guests who prefer not to use the Restaurant or Lounge, we offer a comprehensive room service with meals delivered and collected from outside your room. The breakfast of choice can also be provided as room service or taken in the Restaurant with table service.
Closing Time
We'll be back to normal from 17th May with no curfew on closing time! We'll be open all day, closing the bar at 11.00pm. 
One way in, one way out
We will continue to operate a one-way in and one-way out system. Enter as you always have through the main entrance in the courtyard. 
When you are ready to leave, please use the new exit door to the left-hand side of the bar (the one that used to be blocked off with tables and chairs!). This will bring you out at the front of the archway on the main road.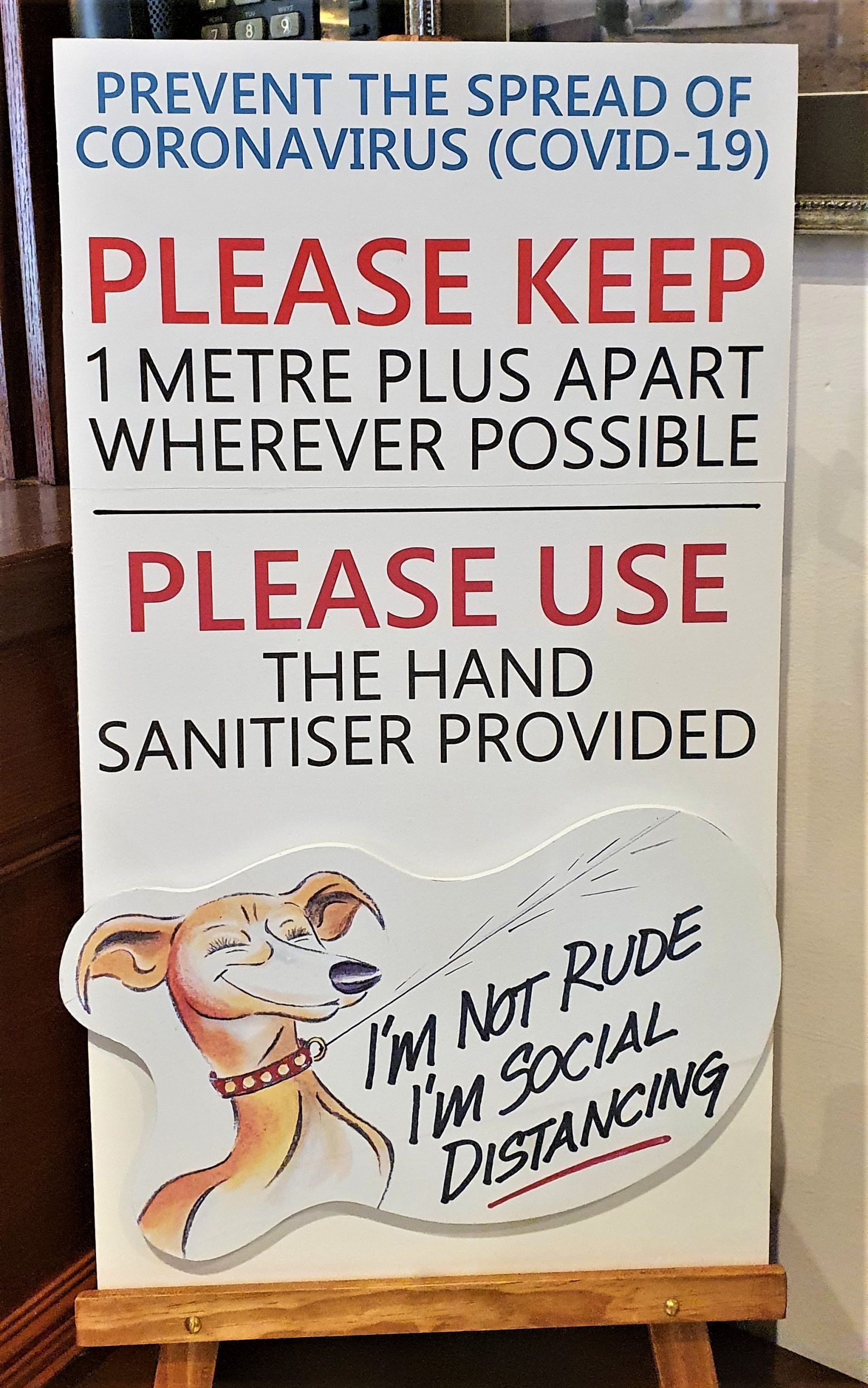 Contactless Payments
And finally, wherever possible please pay by contactless payment or by card. The contactless limit has been increased to £45. If you are paying by cash, please remember to use the hand sanitiser provided.
We are over the moon that we will be able to see you again from 17th May onwards and we hope that the adjustments we have made, as well as your thoughtful consideration, will ensure we don't need to close again!  For a venue that is used to being a social hive of activity, it's going to take all of us to make it work, whilst still having a great time.  We ask that you respect the rules that are in place. Be patient with us, respect other guests and enjoy yourself.
If we get something wrong, tell us and we'll put it right. When we do something right, tell everyone!