Allo Allo Comedy Dinner at The Greyhound
Saturday 29th September 2018
£39.95 per person to include:
Glass of Prosecco on arrival
3-course meal including tea / coffee served in The Christina Room
Drinks waiter*
Show starts in the Bar at 7.30pm
Group and individual bookings - please let us know the size of your party so we can seat you together.
Tickets are selling fast, so don't delay - tickets available from Reception or by calling 01455 553307.
Please select your menu choice when you buy your ticket. See menu below.
*Show lasts approximately 3 hours. Drinks not included in ticket price, please order from your waiter.
Dress code: Smart casual  (no trainers please)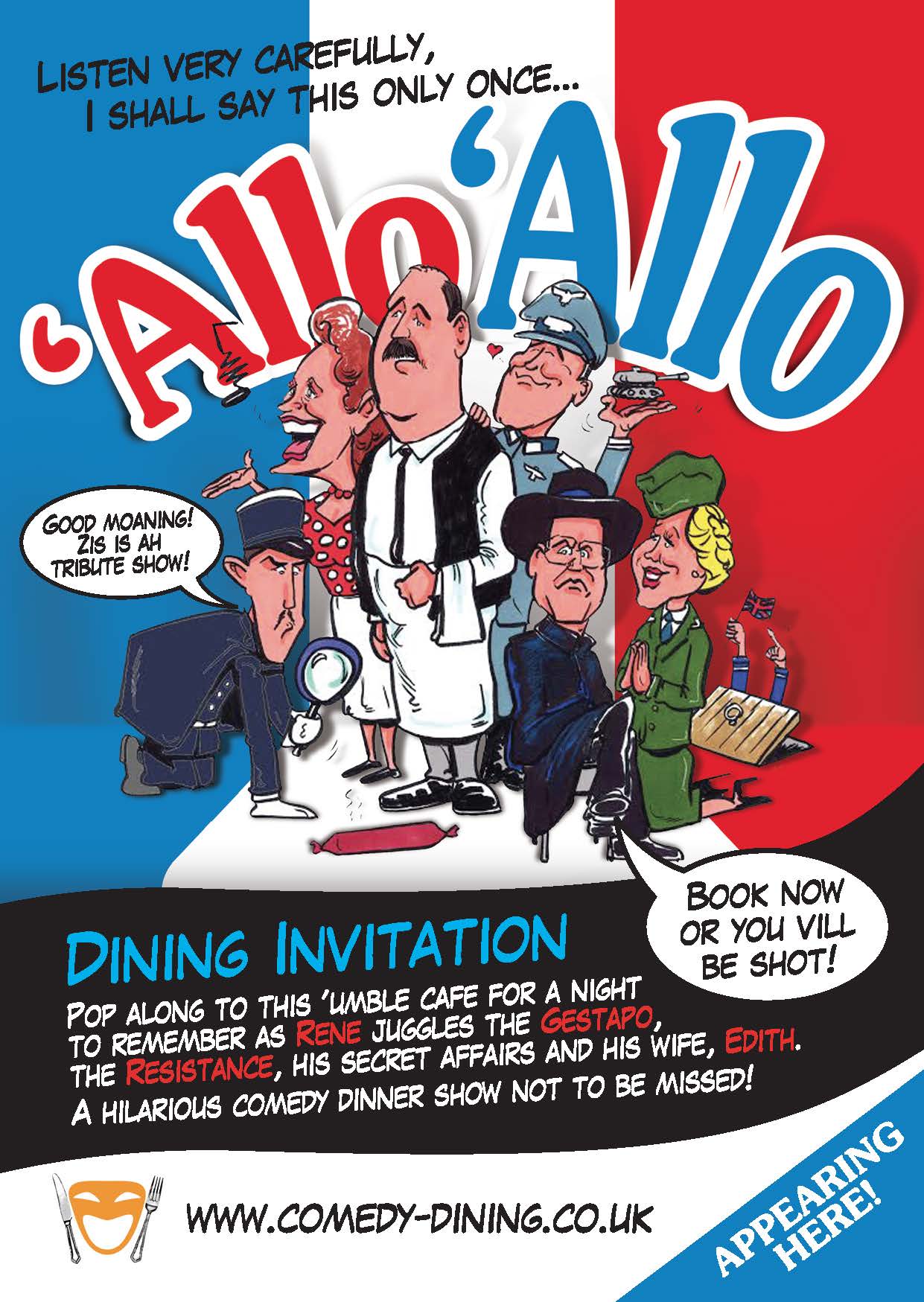 Listen very carefully - we shall say ziss only once…
Welcome to Renée and Edith's restaurant - but you may have chosen a bad night.
Renée has agreed to look after the painting of the Fallen Madonna With The Big Boobies in the cellar, to keep it safe till the war is over. But Herr Flick of the Gestapo is on its trail on the orders of Hitler himself - and he's coming tonight!
Michelle of the French resistance could not have picked a worse time to hide the British airmen in the same hotel. Renée will have to use all his ingenuity - not to mention his wife's appalling cabaret singing - to throw Herr Flick off the scent. It won't be easy, especially when Officer Crabtree turns up to lend a hand.
Featuring a host of favourite characters from the classic sitcom, this evening of food and comedy will make sure, as officer Crabtree might say, "You will stool be loafing tomorrow moaning!"
Allo Allo Comedy Night Menu
Café Rennie Plat du Jour
Please select one dish from each course and let us know what you'd like when you book!
To Begin…
Pate du Jour
Smooth Chicken Liver Pate with French Bread & Plum Chutney
Tarte du Onions et Jambon
Caramalised Onions with Shredded Ham & Roquefort Cheese in a Pastry Case (Vegetarian without the Ham)
In The Middle…
Confit de Canard et Sauce Orange et Cassoulet
Slow Cooked Duck Leg presented with a Rich Sauce with Puy Lentils & Panchetta
Soufflé aux Légume et Fromage
Twice Cooked Vegetables & Cheese Soufflé served with Vegetarian Cassoulet (Bean Stew)
Plates de Légumes et pommes du Tare
At The End…
Tarte au Citron & Champagne Sorbet
Lemon Tart & Champagne Sorbet
Mont Blanc Gateau
Chocolate & Vanilla Mousse with Profiterole & Salted Caramel Sauce
Mixed Ice Cream
To Finish…
Coffee or Tea & After Dinner Mints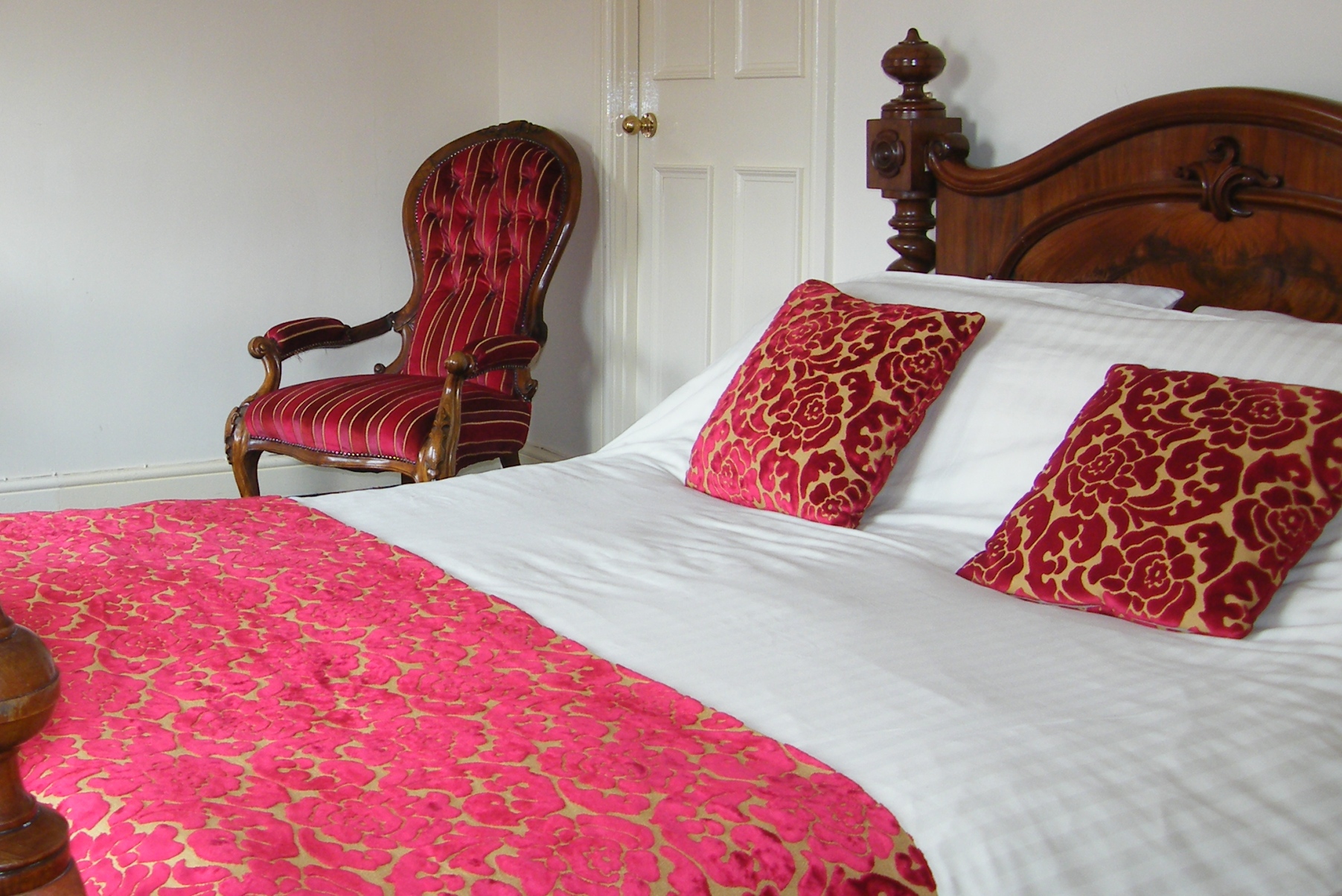 Stay the Night
For our Allo Allo dinner guests we have a special accommodation offer for Saturday 29th September 2018.
Two people sharing a Classic Double Room similar to the one shown, just £80 including breakfast!
To book, please call 01455 553307 or email.